Kitchen and furniture re-finishing.
Whether it's a kitchen project or old bedroom wardrobe, I can help bring to life any piece of wood around your household.
I offer a vast selection of colours and sheen levels to be applied on-site or collect the furniture for the transformation.
A splash of colour to your dining table and chairs or a speaker boxes to make it look modern? Anything is possible.
New doesn't always mean better
If you decided to invest in your kitchen makeover, consider the pros and cons between the restoration of an existing one and replacement. If your kitchen is still in good shape, maybe a little 'cosmetic operation' will be the best answer for the  tired and slightly outdated presence of your furniture.
The average price for a kitchen rebuild in my area starts from over £2,000 and that usually doesn't include all the extras and options that you would like to add in the end.
The difference in price comes from a simple fact – a new kitchen won't use any of your existing parts and materials. That is a lot of material and work to have it done and then do the finish. There's nothing wrong if you have a lot of money to invest into an economy boost, but it leads to one more (not so little) problem:
A short and alarming quote from SEPA (Scottish enviromental agency) website:
"The average household in the UK produces more than a tonne of waste every year. Put together, this comes to a total of 31 million tonnes per year, equivalent to the weight of three and a half million double-decker buses, a queue of which would go around the world two and a half times."
and what about the industrial process to build a new kitchen? wood, waste, carbon impact? I'm not a 'green terrorist', trying to convince you that having an old kitchen, using a bicycle and have a bath in the same water as you make your dishwashing will change the world in a week, but…
It should at least make you feel special if you decide on a smart solution, save yourself money and create less problem for the planet.
If words have not convinced you – see what a difference can be achieved with a bit of my work: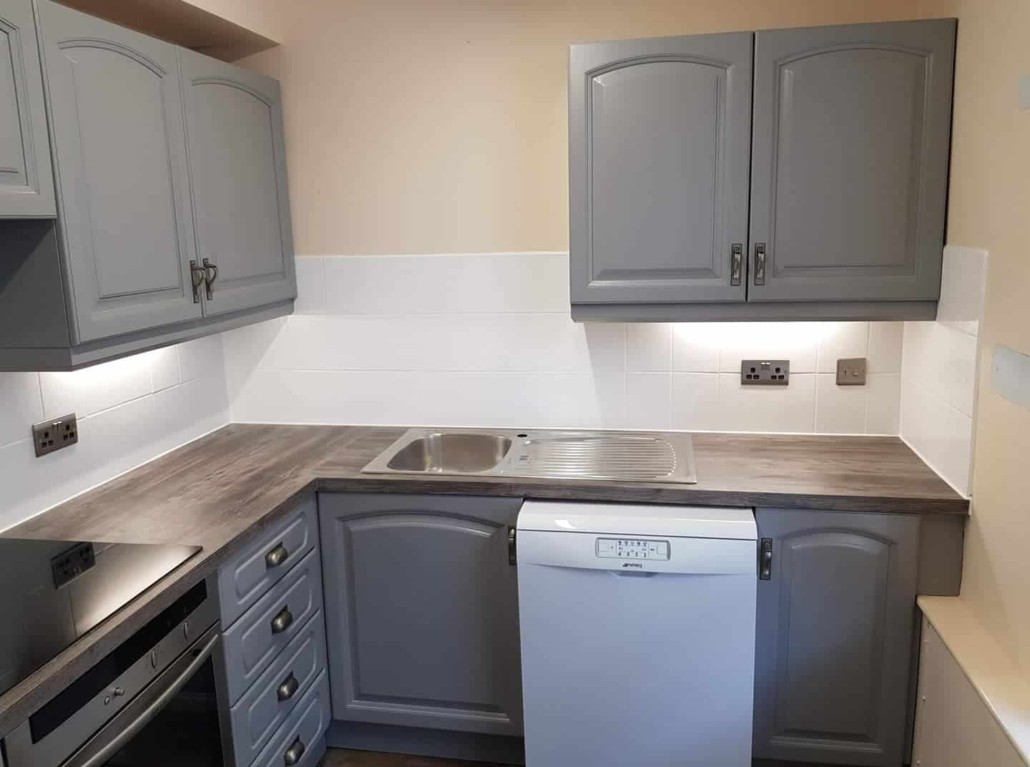 1
Old fashioned tiles, sprayed in gloss white (no replacement needed), before: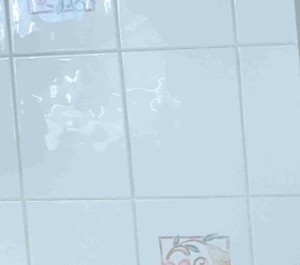 2
Kitchen cabinets sprayed in durable custom colour finish.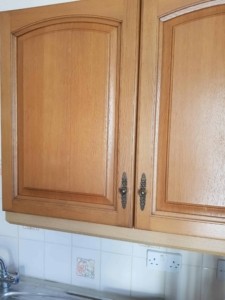 3
New kitchen worktop (replaced by the customers).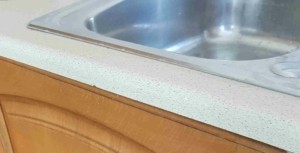 4
New kitchen latch handles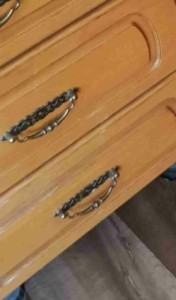 Let me give you a free quote. Prices dependent on desired finish, size, distance and condition of items.